We are your boots on the ground.
Why do it yourself, when we can do it together? Integrating cloud-based technology with face-to-face connection is our forte. We've pulled together the best partners, including Gusto's full platform, to bring you a world-class client experience (CX).
The time tools you need, all combined with payroll.
When you use Gusto, your team's hours, time off, and holidays are automatically calculated into payroll. No extra steps. No stress.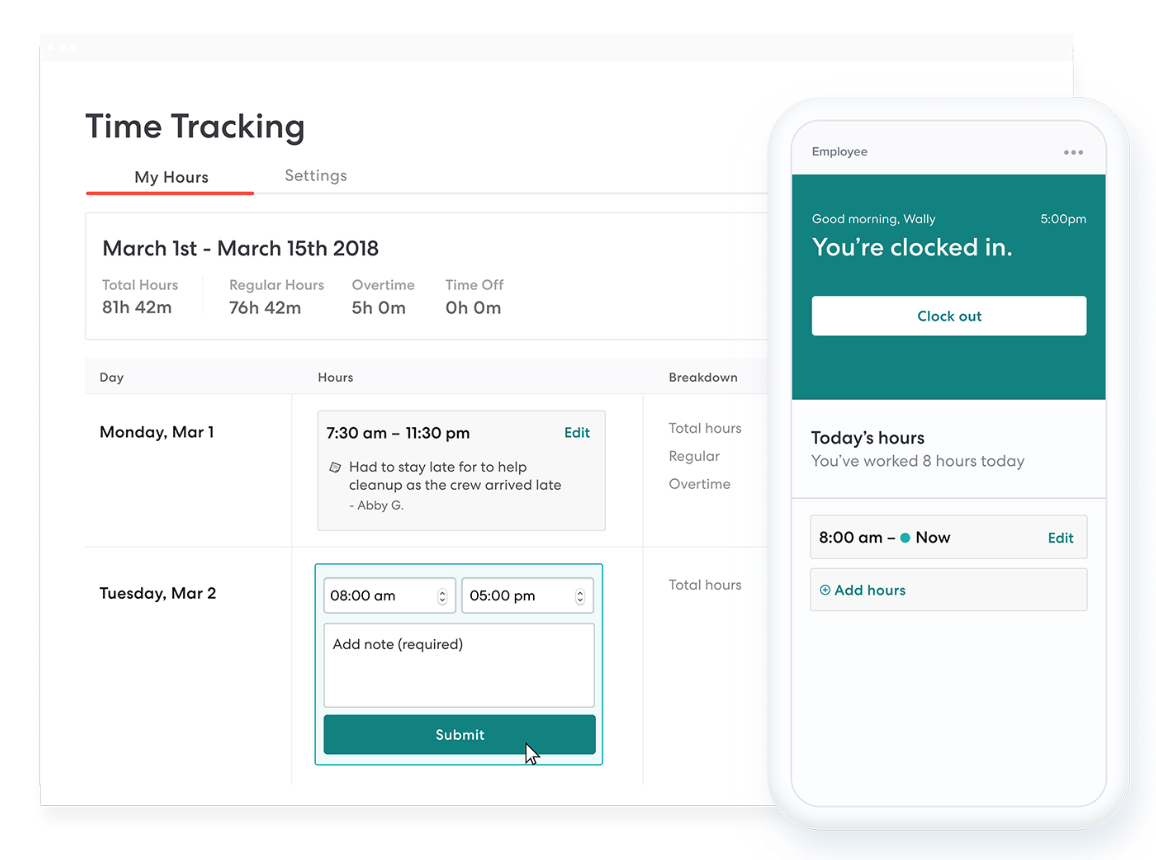 Track hourly work the easy way.
Hourly employees enter hours right in their account. Once a manager approves, you just click to sync to payroll.
People love how simple it is. But some businesses like restaurants and retail have complicated time tracking needs. If that's you, check out our integration with TSheets.
PTO POLICIES AND REPORTING
Paid time off as unique as your team.
Customize your paid-time-off policies to fit your team's needs, then run reports with a click of a button. It's all organized by date, department, or employee so it's easy to navigate.
And remember, automatically calculated PTO liabilities means your accounting stays headache-free.
View time off changes at a glance.
Your answer to, "how did my time off balance get this way?" Chronologically track and understand adjustments to employee time off.
Plus, your team can easily view their own PTO changes right from their Gusto accounts.
Give your team the time off they need.
Once your PTO policy is set, employees can submit vacation and sick days for approval – or managers can submit time off on their behalf. It all syncs to calendars and payroll automatically.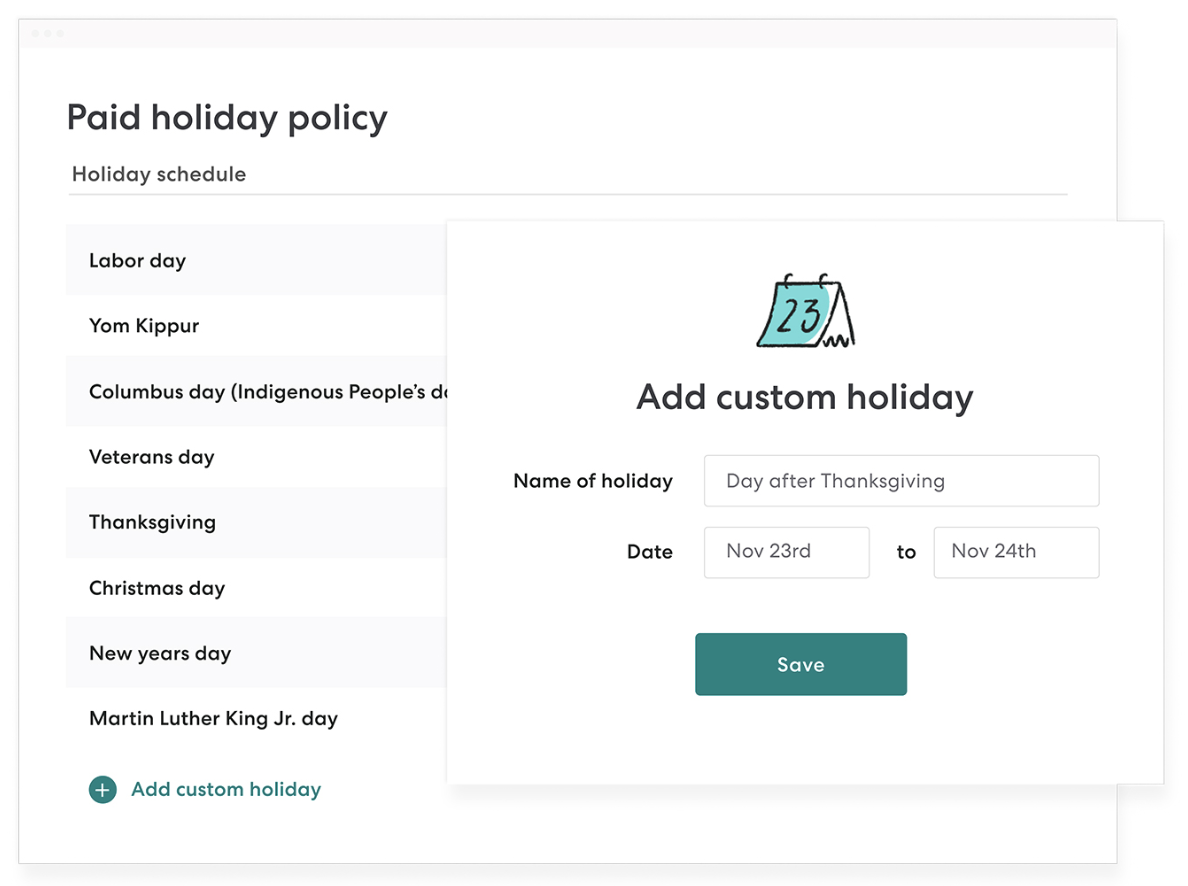 Pick your holidays and pay your team.
Select from federal holidays or upgrade to create your own custom holidays. They'll both be automatically approved and populated into payroll as default paid time off. Easy.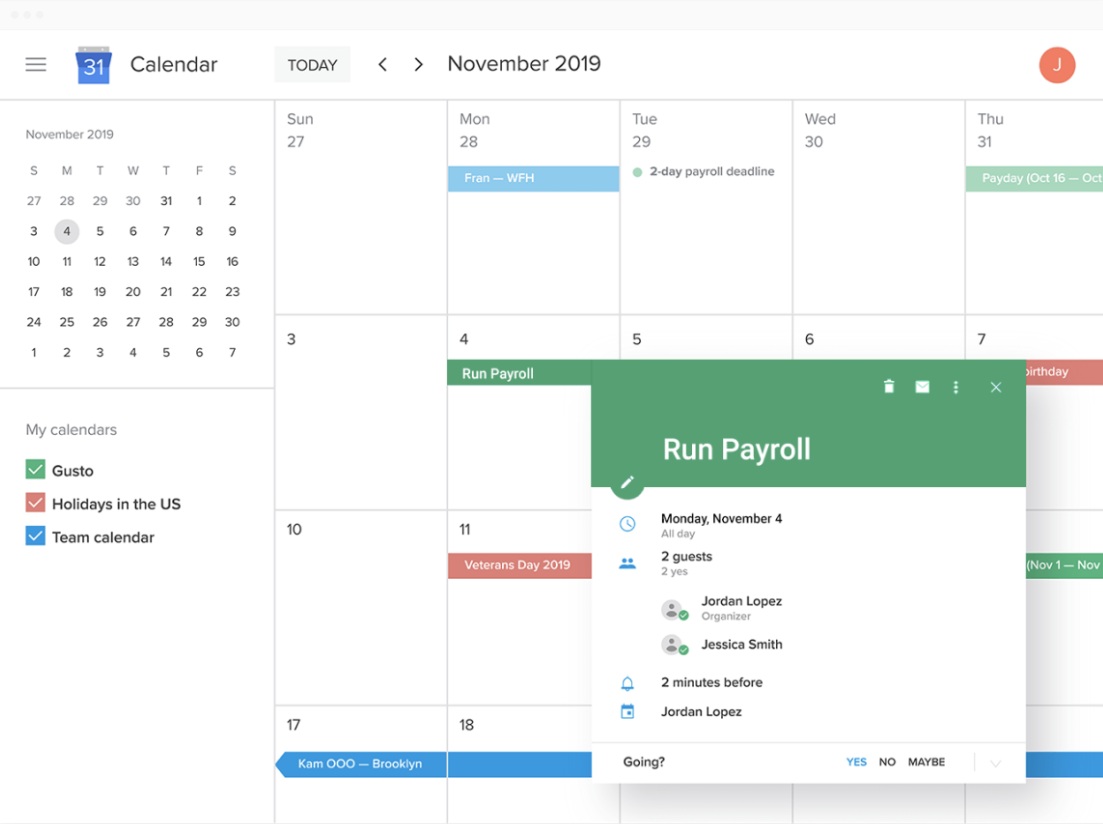 Key dates and tasks, always on your calendar.
Approved time off, key dates, and payroll reminders automatically populate on your favorite calendar — making it that much easier to tackle your to-do list.
Gusto supports Google, Outlook, and iCal.
The best time tools? The ones that sync with payroll.
Track everything in one place. One password to remember. One place to manage it all. One click to sync with payroll.
Automate the most tedious tasks. See ya later, spreadsheets. We'll automatically calculate your team's wages and track time off.
Don't sweat compliance details. Store wage records automatically and get help with compliance, overtime, and more.